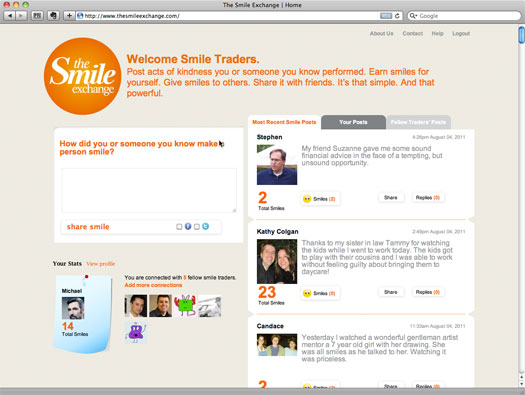 The Smile Exchange is the brainchild of Mark Colgan as a way to "pay-it-forward"; recognizing people for their good deeds and inspiring others.
James from House of Bogue originally approached me about developing the project after he signed on to do the design. The idea behind The Smile Exchange sounded interesting to me. It certainly wasn't your average brochure-ware site, and I knew that the features and functionality they wanted would take me a little outside of my comfort zone and challenge me. So of course I said yes.
Because of the completely voluntary nature of the site, we knew we needed to eliminate as many barriers to entry as possible. With that in mind, Facebook users can connect with one button click and be interacting with the community in seconds. Registration for non-Facebookers was pared down to just the essentials: username, email and password.
While Mark has lots of plans for growing The Smile Exchange, the initial release is all about getting the basics right. The design and functionality focuses specifically on the most important aspect: to make writing and sharing updates as simple as possible. Easy ability to share updates on Facebook and Twitter help spread the word and the ability for smile traders (members) to connect and share with one another helps build a sense of community. We'll use member feedback to determine where things go from here.
Consider joining and posting a good deed to inspire others or just browse and be inspired yourself.