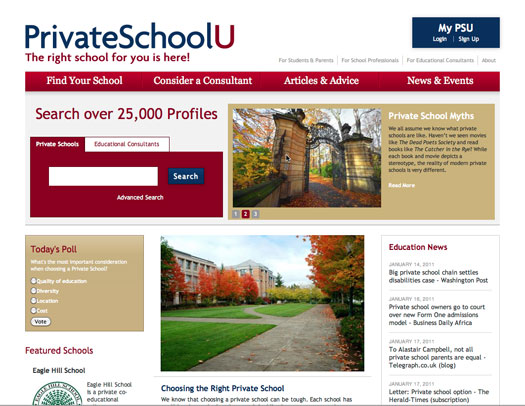 I'm pleased to announce that the new PrivateSchoolU website is live! I'd worked with Brian and Rob in the past, so I was both pleased and excited when they called looking for help on a website for their own company.
PrivateSchoolU is more than just a directory of private schools (25,000+) and educational consultants (1,000+), it's a resource for students and parents. They offer informative articles, videos, news, checklists and other resources for students looking for or already enrolled in private schools.
What Brian and Rob needed was a design and layout capable of conveying all that information in an attractive, easy to navigate way that didn't overwhelm their customers. They had already put together a rough wireframe of the way they wanted things to look and work. So I worked with them on refining both the organization and aesthetics of their original idea.
Once the overall look and feel was determined, I created several different page layouts to accommodate the different types of information customers would be viewing (school and consultant profiles, educational news, photo and video galleries, etc). From those designs, I wrote the HTML, CSS and Javascript for any basic interaction. Each "page" was created as MURA template file that allows PrivateSchoolU to use them in their content management system.
As usual, all HTML was lovingly hand-crafted with special attention to semantics (proper meaningful markup) and search engine optimization.
Mike was able to take an incomplete concept plus our rambling ideas and create a compelling website design for our diverse audience. We constantly receive compliments about the look and feel of PrivateSchoolU.com and we owe that all to Mike.-Rob Marriage