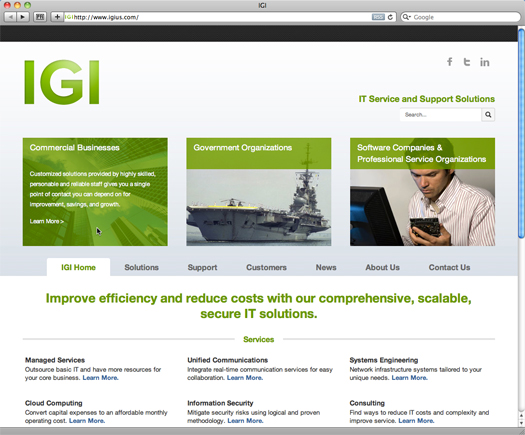 The IGI website redesign is another collaboration between myself and James from the House of Bogue.
The newly redesigned site not only features a fresh look but entirely new back-end administrative functionality as well.
James' art direction included an updated logo and much more professional, modern look for the site.
To improve functionality, the new site was built using the WordPress platform. Previously, content was contained in static ASP pages and required not only specialized software to connect to the web server and make changes to the markup but HTML knowledge as well. WordPress provides a web-based control panel that can be accessed from anywhere and allows content editing with no more knowledge than is required to create and edit a document in your word processing software.
Other updates include more simplified navigation, search functionality, JavaScript interaction, and integration with IGI's social media accounts.