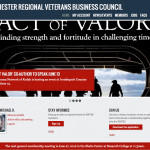 The board members who keep the Rochester Regional Veterans' Business Council are busy folks. They're often business owners themselves and leaders in their field. They have families and are very involved in their communities and other charitable organizations. Like everybody, their "free" time is in short supply.
Technologically, their existing website and related membership renewal processes weren't helping. They were tedious and time intensive.
[vslider name="VeteransBusinessCouncil"]
Updating their website content was a very manual process that involved specialized software (along with the associated licensing fees) and at least intermediate knowledge of HTML in order to make changes. Membership renewal dates and status were recorded manually in spreadsheets and to make things a little easier, it was decided that all memberships would renew on January 1. While this made keeping track of renewals slightly easier, it created a couple of problems. The first was cash flow. Membership dollars came in a rush at the beginning of the year with a trickle of late payments through the rest of the year. The second was new members. Members who wanted to join near enough to January were quietly encouraged to "wait just a little longer" and others were prorated (again, a manual calculation) to renew again at the beginning of the calendar year with everybody else.
Paul Gebel is the secretary for the Veterans' Business Council and, as such, is responsible for updating the website and keeping track of membership dues and renewal statuses. As soon as I sat down with Paul and started to learn more about all these manual, behind-the-scenes processes, I knew immediately I could help save him a lot of time.
If you've ever seen the homepage of the old site, it could be a little overwhelming. It's important for new visitors to get an idea, at a glance, of what the organization is about and what they do. In order to build a community for their members and get them in the habit of using the site, it's also important for them to have access to the information they need, like meeting dates and times or news, with as little effort as possible. All of this information, and more, was there. But there wasn't really a hierarchy or structure that allowed visitors to quickly scan and make sense of it. So one of the priorities of the redesign would be to redesign the homepage for a more professional and clean, organized look. All of the same information and functionality stayed on the homepage but now it has a little better flow and certainly some more breathing room.
Technology is supposed to make our lives easier
Aside from establishing a more modern, professional look, the other main goal of the redesign was to automate as much of the membership renewal processes as possible. New membership functionality automatically keeps track of members real membership dates and emails the member an invoice, and the RRVBC secretary a renewal reminder, 30 days before their membership expires. New members are no longer restricted to an artificial renewal date so they can join anytime, which also ensures cash flow throughout the year.
The site is also extensible enough that credit card processing can be added on in the future to allow members to pay their membership dues right on the site. This would effectively and completely automate the membership renewal and payment processes.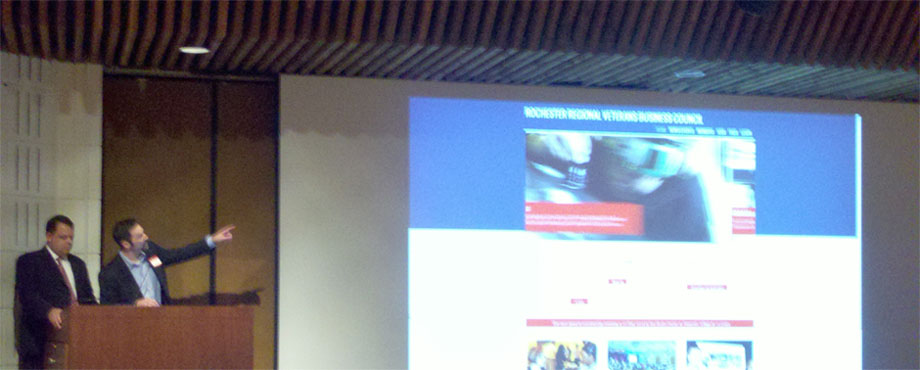 One of the first questions I got from a member during the post-presentation networking was whether we planned a phase two that would include a mobile app or not. It felt great to pull my phone out right then and show him how good it looked. I built the Veterans' Business Council website using responsive design techniques so that while the site doesn't look exactly the same on all browsers or devices, it scales appropriately according to the size of the device so that the layout is always attractive and usable.
I was able to build a website that actually works for the Veterans' Business Council. Let's talk about what I can do for you and your business.