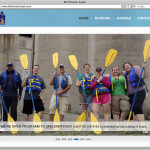 SUP BFLO? The recent redesign of the BFLO Harbor Kayak website turned a simple informational webpage into a full-fledged website that allows customers to reserve and pay for spots in the kayak tours and standup paddleboard lessons that they offer. That's what.
[vslider name="BFLOHarborKayak"]
The biggest motivator for the redesign was that Jason at BFLO Harbor Kayak wanted to offer his customers the convenience of booking their rentals online. Now he's set up with reservation system that allows staff members to create recurring events for their weekly kayak tours and standup paddleboard lessons. Some of the other features include the ability for staff to set attendance limits for tours and lessons to maintain a positive experience for the attendees. Jason and BFLO Harbor Kayak staff can also offer early-bird registration discounts and other price promotions. Customers can see the dates and times tours and lessons are available in easy-to-read monthly calendar format. The changes are paying off and BFLO Harbor Kayak had several fully booked tours and lessons, all online, within days of the new site's launch.
All in a mobile-friendly package!